Darkseid: the tyrannical Lord, the malevolent New God, the all-powerful supervillain – now available as the newest addition to the Super Powers Collection of DC Maquettes! Behold, this impressive Darkseid Statue!
Who is Darkseid?
Darkseid, otherwise known as the tyrannical Lord of Apokolips, is from an extraterrestrial deity race, called the New Gods. He is regarded as one of the most powerful supervillains to ever appear in the DC Universe. Darkseid has an overwhelming and unwavering desire to enslave all who reside in the multiverse. He wants to eliminate hope and freewill in the process.
Born as Prince Uxas, he was second in line to the throne of Apokolips. He first began his evil endeavors by plotting to seize power over his home planet. When his older brother, who was the rightful heir to the throne, attempted to intervene, Uxas murdered him.
Upon murdering his brother, Uxas's skin turned to stone and he then rechristened himself as Darkseid. He would go through his own pain as a result of falling in and having a child of his own. Also, his mother played the main protagonist in his life. This resulted in him having her poisoned and finally claiming the supreme monarch of Apokolips.
Darkseid and the DC Universe
Darkseid would face many foes throughout his time, as he sought to spread evil across the lands. Due to his dark nature, he would face battles against glorious superheroes such as Superman. Darkseid saw all other Gods as a threat and quickly sought out to destroy the island Themyscira. His hopes were to learn of the location of the Olympian gods, in order to steal their power as well. The Amazon peoples would rebel against Darkseid's plans, causing the death of near half their population. This would result in a climactic battle between Darkseid and Wonder Woman, in which she would revenge the death of her sisters by placing a portion of her own soul with Darkseid, forever weakening him.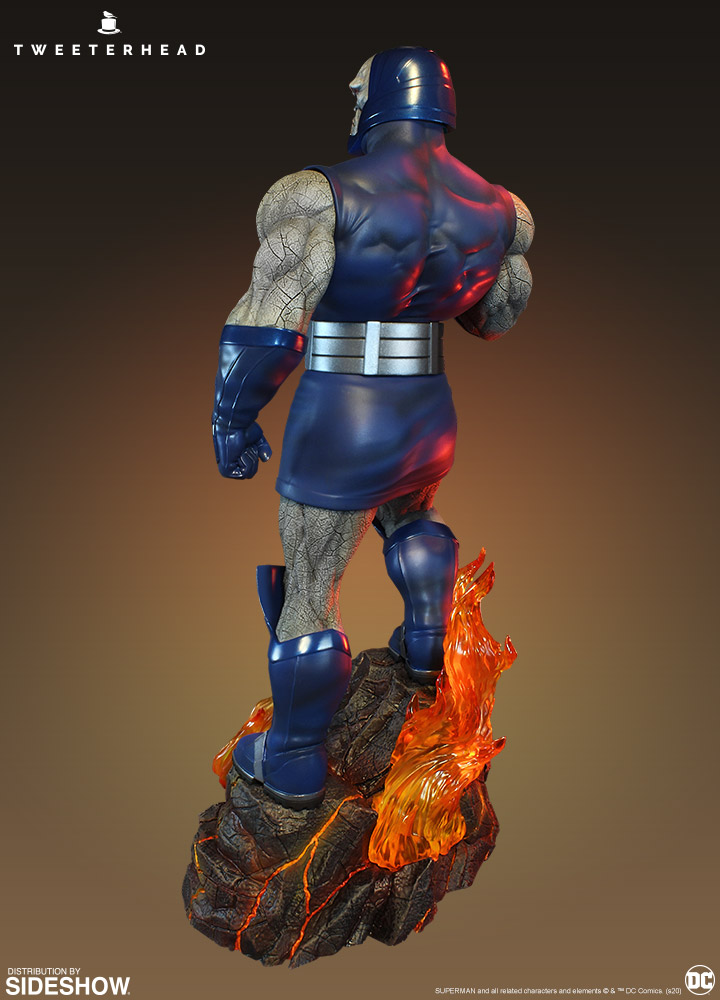 Darkseid's goal was to reshape the universe into an image of all of his own makings; without any form of hope or free will to hold onto. Because of this, he made it his mission to unravel the mysterious Anti-Life Equation. This would give him complete control over the thoughts and emotions of all living beings within his universe. This is amongst the many skills and powers that he already possessed. It makes him the renowned supervillain that he is. As prophesied at the beginning of his reign, it would be his own cast-aside son that put an end to Darkseid.
This detailed, commemorative Darkseid statue stands 21 inches tall and is sculpted in true supervillain fashion, with Darkseid's menacing disposition. Lastly, it was sculpted by Paul Harding, molded and cast by Mike Allen, and painted by David Fischer.
The Darkseid Statue
This Darkseid statue is ready to order and available for shipment today! So, don't miss your opportunity to add the Super Powers Darkseid Marquette to your DC Universe and Comics Collection!