Sideshow Collectibles presents their 2020 rendition of the ever-popular Captain Marvel! This amazing 1:6 scale Avenger is detailed meticulously to portray her role as a dominant fighter that can battle any foe that Earth faces.
This collector's edition Captain Marvel from Sideshow Collectibles features a 16″ tall Carol Danvers with a leaping pose and fierce look, while her right hand behind her back emits a fiery glow that is about to unleash a tremendous punching force, to destroy her foes. She is also bearing a traditional hairstyle from the comics that bears a shoulder-length cut. Her costume is also mirrored well from the comics as all of the details, including her scarf and pins, are color graded perfectly to match the Marvel artists' vision when they originally designed the character.
Colors are also made well as the red and blue hues are intentionally matted so that the gold highlights would pop out to signify her sophistication and dominance on the battlefield. The base also accentuates the earth-shattering leap, causing rocks to separate and disperse from her powerful aura. Her body and face are beautifully sculpted to present a jaw-dropping detail that will impress Marvel fans, collectors, and art aficionados. It also comes with an Exclusive Edition Statue, wherein the set includes an alternate helmet portrait that features her signature and highly popular mohawk hairstyle that is highlighted with photonic energy. This is the perfect display piece to complete your Avengers set or to create a new environment for an all-female superhero collection!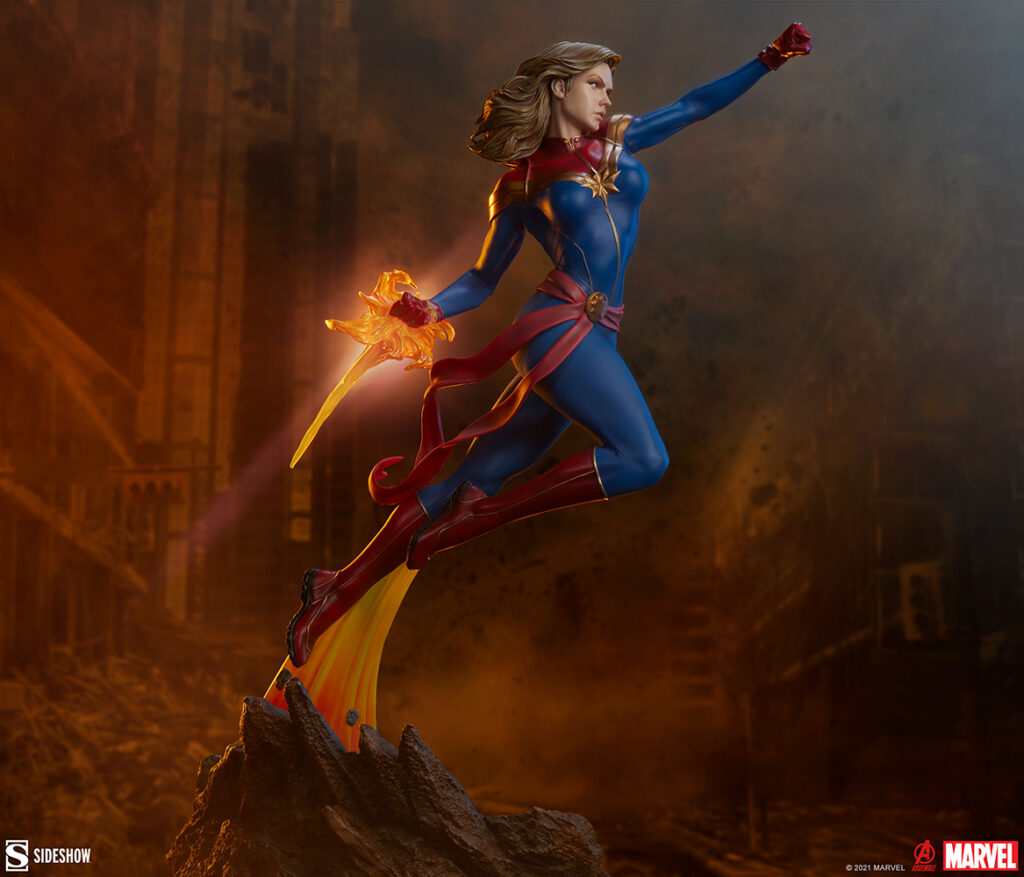 Before she held the Captain Marvel name, Carol Danvers was a United States Air Force Major that conducted test flights for prototype planes and other test flights for N.A.S.A. She was then promoted as security chief of the test site in Cape Canaveral, where she met Dr. Walter Lawson, which was actually a Kree named Mar-Vell who was sent by their leader the Supreme Intelligence, to act as an agent or a spy to suppress the human potential for development of nearly limitless psionic powers. Unfortunately for Supreme Intelligence, the plan backfired as Mar-Vell grew a sympathy for the people of the Earth, including Carol Danvers.
The Supreme Intelligence then ordered commander Yon-Rogg to destroy Mar-Vell and his plans on reinforcing the Earth humans. During the fight between Mar-Vell and Yon-Rogg, Danvers was bombarded with radiation from a Kree Psyche-Magnetron, which caused her to develop half-Kree physiology and gain a hybrid superhuman power. She then named herself Ms. Marvel to fight alongside Mar-Vell who held the mantle of Captain Marvel, to fight against all Earth invaders and oppressors. After Captain Marvel died from cancer, Ms. Marvel soon took up the mantle of Captain Marvel as the new protector of Earth and other nearby planets. She has also been known as Ace, Warbird, and Binary.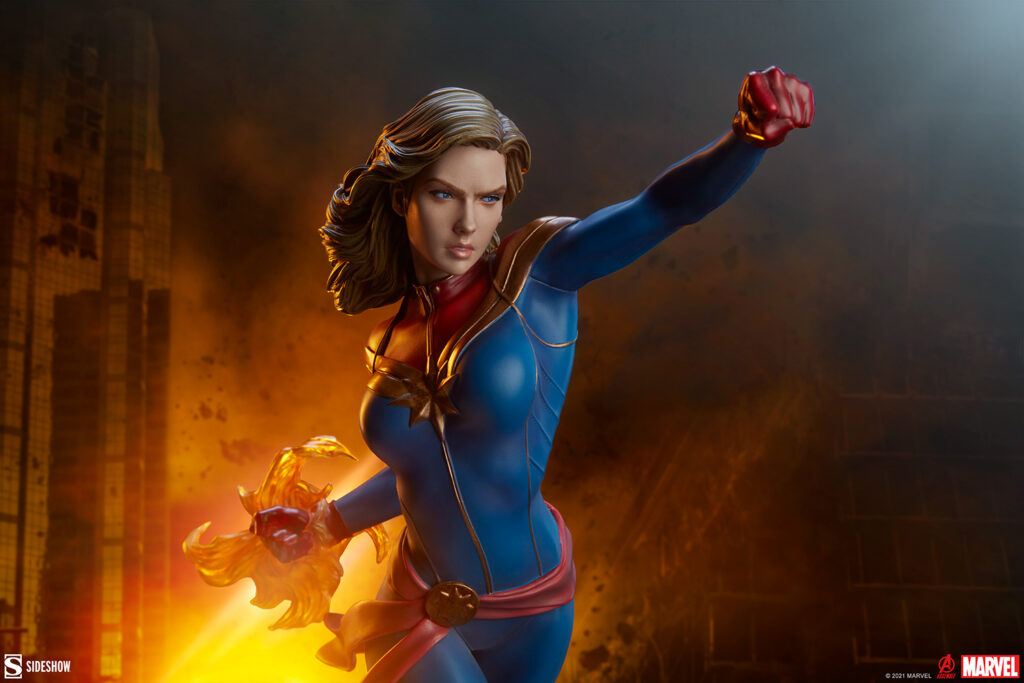 Artists: Igor Catto (Sculpt)__David Igo (Design)__Richard Luong (Design)__Ian MacDonald (Design)__Chie Izuma (Paint)__The Sideshow Design and Development Team (Development)
Release Date: 2020