As the Shang-Chi movie opens in theaters, the time is right to review the Shang-Chi statues and busts released in the past that celebrate the martial arts Marvel hero.
The movie, starring Simu Liu as the classic Marvel super-hero, brings the character to life for audiences that are discovering the character for the first time. Opening in theaters in September 2021, Shang-Chi and the Legend of the Ten Rings celebrates the character that has been featured in Marvel comic books for almost 50 years.
Who is Shang-Chi?
Created in 1934 by Steve Englehart and Jim Starlin, Shang-Chi made his first appearance in Special Marvel Edition #15. In this issue, Shang-Chi is revealed to be the son of the legendary Fu Manchu – a character from pulp literature created by Sax Rohmer. Trained all of his life to that point to become a master assassin, Shang-Chi is sent on his first mission to kill an enemy of his father's. During this first adventure, Shang-Chi discovers the evils his father has committed, and he swears to bring him to justice. This is the framework of Shang-Chi's adventures for many years to come as the Special Marvel Edition title is transformed into The Hands of Shang-Chi, Master of Kung Fu.
---
Shang-Chi Bust from Dynamic Forces (2002)
The Master of Kung-Fu is ready for battle in this sculpture from Dynamic Forces. This bust depicts Shang-Chi in his classic garb from the comic books. It is designed by comic book legend Dan Jurgens and sculpted by Howard Kalish. The sculpture sits atop an ornate box base inscribed with the name of the hero.
---
Shang-Chi Bust from Art Asylum and Diamond Select (2003)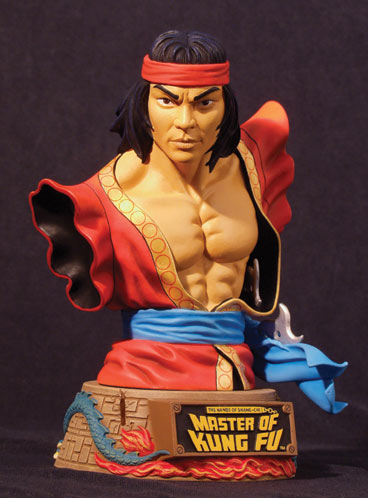 In this bust, the flowing action of Marvel's martial arts hero is felt through the waves of Shang-Chi's clothing as sculpted by Mike Cusanelli. The vibrant colored bust sets a highly detailed base atop a dragon and the hero's classic logo.
---
Shang-Chi Miniature Statue from Eaglemoss (2010)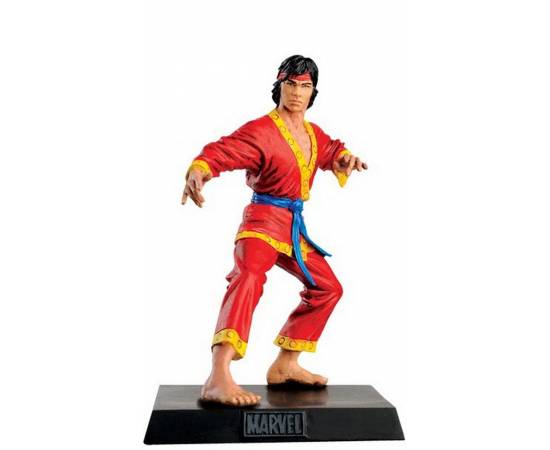 Eaglemoss Publications produced magazines based on Marvel characters for many years, and issue #111 featured Shang-Chi. Each issue featured a figurine based on the spotlight character. The Shang-Chi 3 ½" miniature statue is a full-body sculpture of the hero, dressed in his classic red gee and ready for battle.
---
Now that Shang-Chi has joined the Marvel Cinematic Universe, the possibility exists for new Shang-Chi statues and busts to be produced for new fans as well as old.